Telemonitoring Based Waste Cooking Oil Quality Detection and Sorting System
Keywords:
Cooking oil, ESP32, TCS3200 sensor, pH sensor, conductivity sensor, turbidity sensor
Abstract
Cooking oil that is used repeatedly is called cooking oil. Due to the very high price of cooking oil, people still use used cooking oil for daily cooking, even though it is very dangerous for health and can cause a number of diseases, such as stroke, coronary heart disease, hypertension, and cancer. Parameters that are quite important to determine the quality of used cooking oil based on Indonesian quality standards of cooking oil are color parameters, pH, free fatty acid levels and turbidity. These four parameters need to be emphasized so that people can know and control the quality of used cooking oil that is suitable for reuse. In this research, a tool is made that can determine the quality of used cooking oil based on the parameters of color, pH, free fatty acid content and turbidity. The detector is equipped with a TCS3200 sensor to detect color, a pH sensor to detect pH, a conductivity sensor to detect free fatty acid levels and a turbidity sensor to detect turbidity in used cooking oil. For data transmission, the ESP32 module is used and the output data can be viewed and monitored via a 16x2 LCD and a website on a smartphone or computer. The system created has a good quality of information delivery and successful data transmission when testing delay and packet loss. The success rate of sending data from ESP32 to the Webserver is 92.4% and the average delay in sending data is 0.0025 ms.
References
D. Rian Efendi, "Pembuatan Biodiesel Minyak Jelantah Menggunakan Metode Esterifikasitransesterifikasi Berdasarkan Jumlah Pemakaian Minyak Jelantah," POLBAN, p. 402.409, 2018.
H. N. Muhammad, "Arang Aktif Kayu Leucaena Leucocephala sebagai Adsorben Minyak Goreng Bekas Pakai (Minyak Jelantah)," Physics Education Research Journal, Vols. 2, No. 2, pp. 123-130, 2020.
D. Nike Dwi Grevika Drantantiyas, "Potensi Cahaya Laser sebagai Sensor Kadar Asam Lemak Jenuh pada Minyak Jelantah," Artikel Riset, pp. 156-159, 2020.
I. F. U. d. Q. A'yuni, "Penentuan Kadar Asam Lemak Bebas Dan Kadar Air Pada Minyak Goreng Yang Digunakan Oleh Pedagang Gorengan Di Jalan Manyar Sabrangan, Mulyorejo, Surabaya," Journal of Pharmacy and Science, Vols. 3, No 2, no. -, pp. 17-22, 2018.
D. Sasongko, "SISTEM DETEKSI MINYAK GORENG DENGAN MENGGUNAKAN SENSOR PH DAN SENSOR HCHO SEBAGAI INDIKATOR KELAYAKAN KONSUMSI BERBASIS ARM STMF4," Jurnal Repository, Vols. -, no. -, pp. -, 2019.
D. Toban T.Pairunan, "DESAIN SISTIM MONITORING JUMLAH ZAT PADAT TERLARUT DALAM LIMBAH CAIRAN INDUSTRI TEPUNG KELAPA," PROSIDING SEMINAR NASIONAL SAINS DAN TERAPAN 2019, Vols. -, no. -, pp. 64-70, 2019.
A. S. I. d. M. Ulfah, "RANCANG BANGUN SISTEM DAUR ULANG MINYAK GORENG BEKAS BERBASIS ALGORITMA FUZZY LOGIC," Jurnal SIMETRIS, Vols. 9, No. 2, no. -, pp. 855-864, 2018.
F. F. d. Irawan, "MONITORING FILTER PADA TANGKI AIR MENGGUNAKAN SENSOR TURBIDITY BERBASIS ARDUINO MEGA 2560 VIA SMS GATEWAY," Jurnal Komputasi, vol. 7, no. 2, pp. 19-29, 2019.
D. Nina Arlofa, "Pembuatan Sabun Mandi Padat dari Minyak Jelantah," Jurnal Chemtech, Vols. -, no. -, pp. 17-21, 2021.
D. Mukhlison, "Pembuatan Sabun Menggunakan Minyak Jelantah Guna Mengurangi Pencemaran Lingkungan," Prosiding Seminar Nasional Abdimas Ma Chung, Vols. -, no. -, pp. 89-97, 2021.
D. Muliadi, "PENGEMBANGAN TEMPAT SAMPAH PINTAR MENGGUNAKAN ESP32," Jurnal MEDIA ELEKTRIK, Vols. 17, No. 2, no. -, pp. 73-79, 2020.
I. A. R. d. N. Y. D. Setyaningsih, "KARAKTERISASI DAN KALIBARASI SENSOR PH MENGGUNAKAN ARDUINO UNO," Prosiding SENDI_U , Vols. -, no. -, pp. 244-247, 2018.
S. F. A. d. H. H. Rachmat, "EVALUASI KARAKTERISTIK DETEKSI WARNA RGB SENSOR TCS3200 BERDASARKAN JARAK DAN DIMENSI OBJEK," JETri, Vols. -, no. -, pp. 105-12, 2019.
D. Mujaddid Shibghotul Islam, "RANCANG BANGUN REALTIME MONITORING TINGKAT KEASAMAN (PH) DAN KONDUKTIVITAS ELEKTRIK (EC) BERBASIS INTERNET OF THINGS (IOT) PADA SUNGAI CITARUM," e-Proceeding of Engineering, Vols. 8, No. 2, no. -, pp. 1899-1904, 2021.
D. Paryanto, "Perancangan Prototype dan Evaluasi Alat Pemantauan Air Limbah Industri Berbasis IoT," ROTASI, Vols. 24, No. 1, no. -, pp. 50-57, 2022.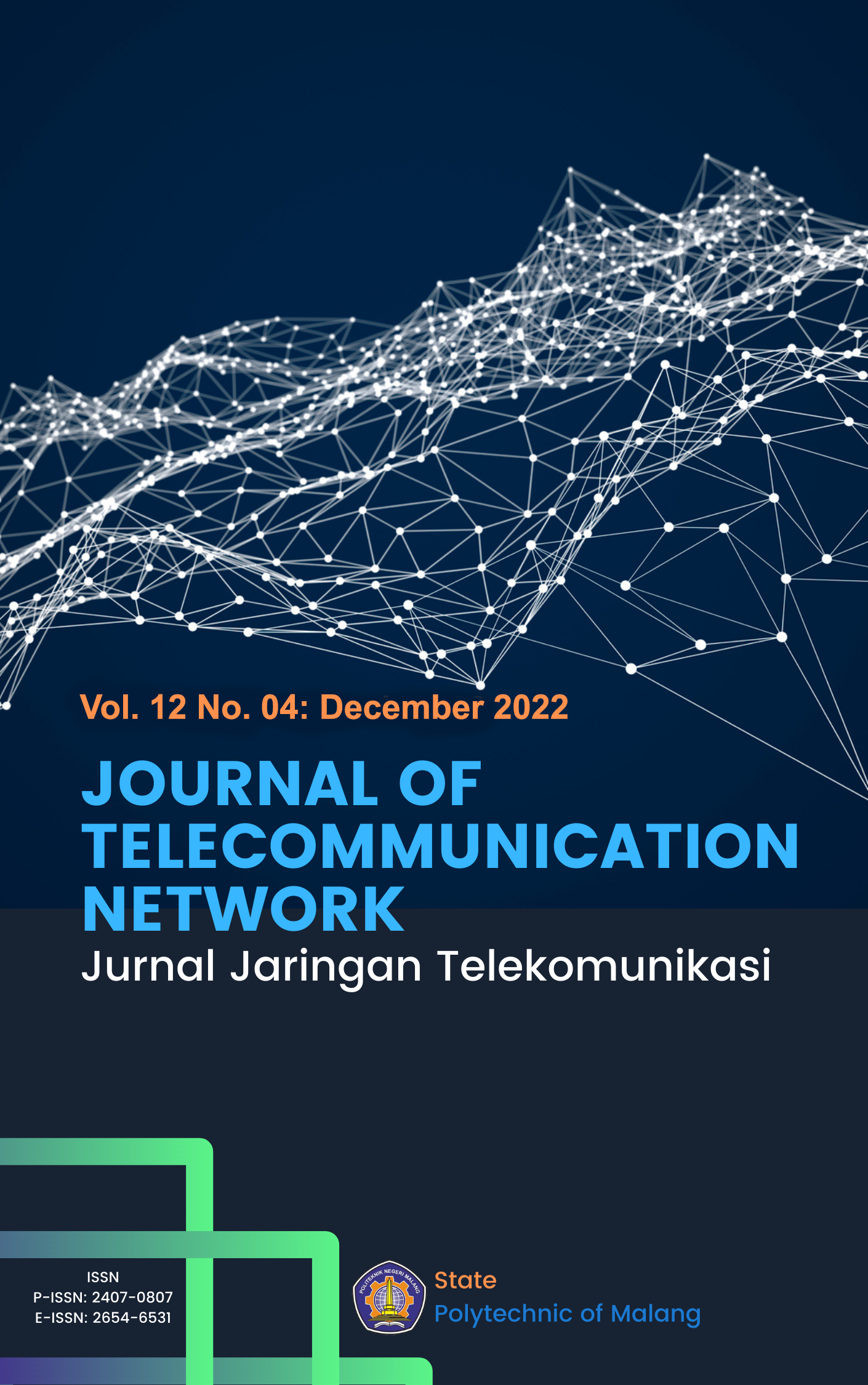 Downloads
How to Cite
[1]
M. Huda, F. A. Soelistianto, and N. Suharto, "Telemonitoring Based Waste Cooking Oil Quality Detection and Sorting System", Jartel, vol. 12, no. 4, pp. 265-269, Dec. 2022.
License
Copyright (c) 2022 Miftahul Huda, Farida Arinie Soelistianto, Nugroho Suharto
This work is licensed under a Creative Commons Attribution 4.0 International License.