Application of MikroTik Firewall for Website Access Restriction and Prevention of DoS (Denial of Service) Attacks on Internet Networks Al-Mahrusiyah Vocational School Lirboyo
Keywords:
Firewall, Mikrotik, LOIC, DoS, Access Restriction
Abstract
Internet access is so easy that every level of society can access information from the website. If internet access is used positively, it will produce positive things for its users as well. Such as the facilities provided by the management of SMK Al-Mahrusiyah Lirboyo. Students, especially in the Computer and Network Engineering (TKJ) department, get facilities such as PCs in the lab or laptops along with internet access during productive learning hours. In its application in schools, students who are given laptop facilities and internet access do not always use it for learning. Questionnaire data showed that there were other things that were opened, including 37.7% of respondents finding and trying hacking tutorials, 35.8% playing social media, and 34% streaming movies. For this reason, a firewall is needed that restricts students' access to it. The firewall will be formulated with a script on the MikroTik router through the WinBox. The results of firewall tests using a combination of filters and Raw successfully blocked access to social media websites, streaming movies, and anime. The client cannot access and the display in the client browser displays continuous loading. Testing firewalls to ward off DoS attacks was also successful. When tested, LOIC did not send a single request packet and when the CPU resource was checked, the resource was only 1%. The use of firewalls with MikroTik routers is effective in limiting students' access to other things outside of learning. With this, it is hoped that students can better utilize facilities for learning.
References
MA Abdilah, I. Alfiani, MA Ulbarokah, and KW Nugraha, 'OPTIMIZATION OF MICROTIC ROUTERBOARDS AS AN EFFORT FOR A HEALTHY INTERNET', vol. 1, no. 1, p. 7, 2021.
B. Jaya, Y. Yuhandri, and S. Sumijan, 'Improving Mikrotik Router Security Against Denial of Service (DoS) Attacks',Jsisfotek, pp. 115–123, Dec. 2020, doi:10.37034/jsisfotek.v2i4.32.
IDMBA Darmawan and IGOG Atitama, 'Fundamental Mikrotik Workshop Module', Udayana University Net-Centric Computing LAB, p. 29.
BILHANET, 'Social Media Content Domains: Facebook, Instagram, Twitter for Mikrotik', BILHANET, Mar. 31, 2021. https://bilhanet.com/mikrotik-content-media-social-facebook-instagram-twitter/ (accessed Aug. 15, 2022)
AD Prasetyo, 'Application of Mikrotik Router-Based Wireless Network Using VTP (Vlan Trunk Protocol) Method at PT. Pertamina Asphalt Factory Gresik', Dinamika University, Undergraduate Thesis, 2017.
MD Lesmana Siahaan, M. Sari Panjaitan, and AP Utama Siahaan, 'MikroTik Bandwidth Management to Gain the Users Prosperity Prevalent', IJETT, vol. 42, no. 5, pp. 218–222, Dec. 2016, doi:10.14445/22315381/IJETT-V42P243.
F. Khafif and K. Semarang, 'INCREASING INTERNET SERVICES USINGMICROTIK AND WINBOX SOFTWARE AT PTIPD UIN WALISONGO SEMARANG', vol. 3, no. 1, p. 4, 2021.
I. Riadi, 'Optimizing Network Security Using Mikrotik-Based Application Filtering', p.11.
'Basic Concepts of MikroTik Firewalls and Their Functions on Networks'. https://kharismaworld.co.id/blog/firewall-mikrotik (accessed Jul. 30, 2022).
'Mikrotik Indonesia on Twitter', Twitter. https://twitter.com/mikrotik_id/status/1527547197784719360 (accessed Aug. 15, 2022).
T. Hart, Networking with MikroTik: MTCNA Study Guide.pdf, 1st ed. Independently published, 2017.
'MikroTik Filter Rule - Nevtik'. https://nevtik.org/mikrotik-filter-rule-part1/ (accessed Aug. 02, 2022).
Z. Chao-yang, 'DOS Attack Analysis and Study of New Measures to Prevent', in 2011 International Conference on Intelligence Science and Information Engineering, Wuhan, China, Aug. 2011, pp. 426–429. doi:10.1109/ISIE.2011.66.
A. Bhardwaj, A. Sharma, V. Mangat, K. Kumar, and R. Vig, 'Experimental Analysis of DDoS Attacks on OpenStack Cloud Platform', in Proceedings of 2nd International Conference on Communication, Computing and Networking, vol. 46, CR Krishna, M. Dutta, and R. Kumar, Eds. Singapore: Springer Singapore, 2019, pp. 3–13. doi:10.1007/978-981-13-1217-5_1.
Dwiky and A. Aziz, 'Students' Habits When Provided with Laptop Facilities and Internet Access'.
A. Yanwar Syarif and N. Mashitoh, 'School Policy Regarding Student Internet Access', Aug. 01, 2022.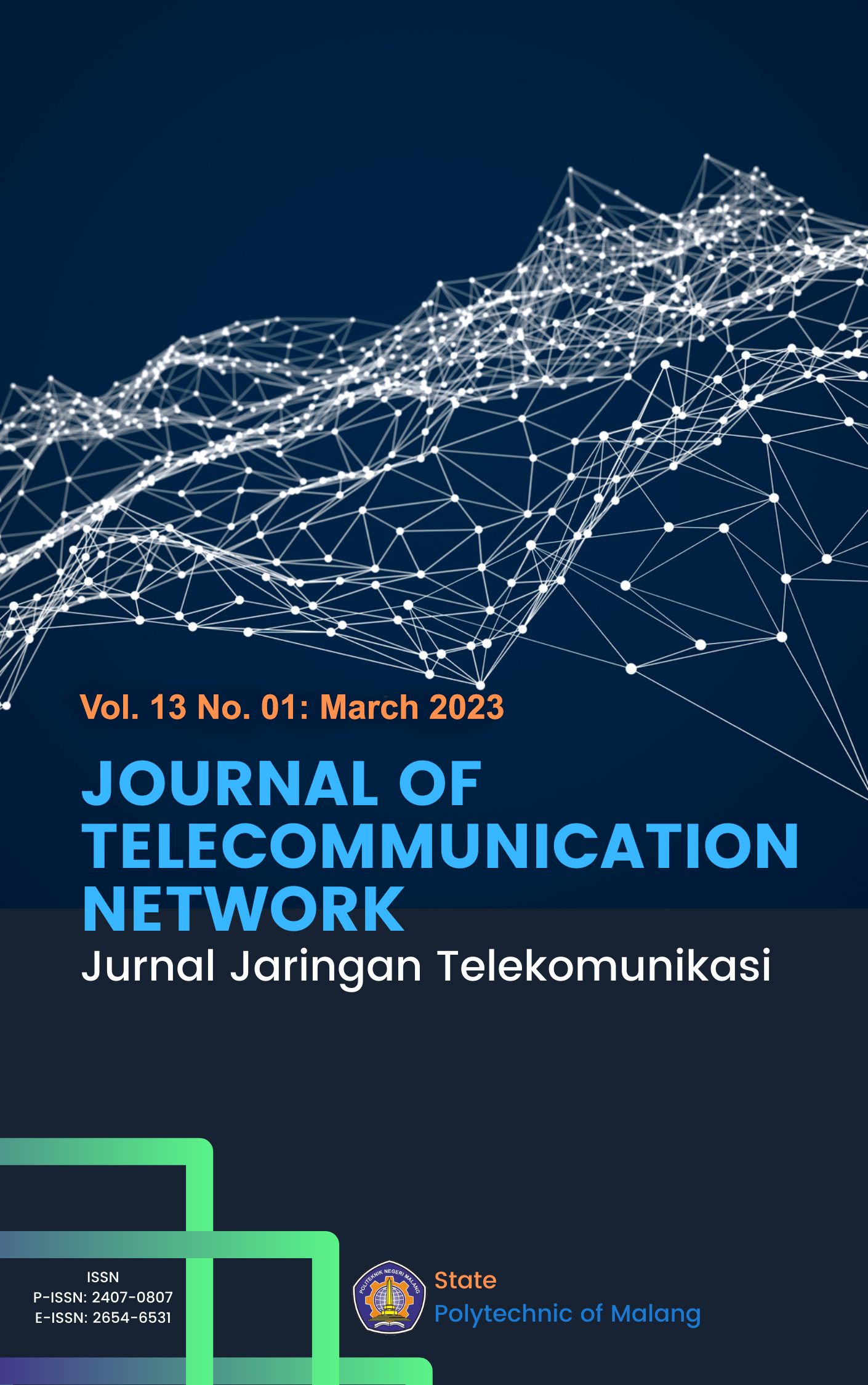 Downloads
How to Cite
[1]
A. Maulana, N. Suharto, and A. Hariyadi, "Application of MikroTik Firewall for Website Access Restriction and Prevention of DoS (Denial of Service) Attacks on Internet Networks Al-Mahrusiyah Vocational School Lirboyo", Jartel, vol. 13, no. 1, pp. 81-86, Mar. 2023.
License
Copyright (c) 2023 Asyiq Maulana, Nugroho Suharto, Aad Hariyadi
This work is licensed under a Creative Commons Attribution 4.0 International License.