Design System of Coffee Maker with Manual Brew Method and Coffee Sales Monitoring
Keywords:
Coffee, Manual Brew, Microcontroller, Monitoring, Ultrasonic
Abstract
Pusat Data dan Sistem Informasi Pertanian Kementrian Pertanian claimed that in 2018 Indonesia coffee consumption has national increase of 2.49%. There is reflected by expantion of coffee shops. Menu that coffee shops offered is Manual Brew Coffee, brewed manually by the barista. If there is a lot of waiting line it will decrease barista performance to making orders. It supports the impact of income earned and get a reduction of customer satisfaction. Motivated by this, a Coffee Maker system that support to monitoring water volume, water temperature, monitor coffee sales to manage time spend for make a coffee also help barista for making a coffee. This system consists of ultrasonic sensor to monitor water stock and temperature sensor to monitor the water temperature. Application on android will display data in real time to user. Results of study obtained test value on temperature sensor with an average value difference of 0.069°C. Ultrasonic sensor test to calculate volume of water produces an error value of 1.2%. The whole system comparing the speed of making coffee between the coffee maker system and manual by barista, average time difference is 1 minute 58 seconds. The value is quite good because it does not exceed the tolerance limit of each sensor, namely ±0.5°C for the temperature sensor and 1cm for the ultrasonic sensor. The obtained value is not much different from the actual coffee dose, with a difference of 0.65gr not exceeding 1gr. The system works much faster than manual coffee brewing by the barista
References
Pramelani. "Faktor Ketertarikan Minuman Kopi Kekinian Terhadap Minat Beli Konsumen Kalangan Muda," 2020. Jurnal Ilmiah Manajemen, vol. 15, no. 1, pp.121-129, April 2020.
Fitriani, Utami Adita Evalina. Rahmat Nurcahyo. dan Dachyar M., "Karakteristik dan Strategi Perusahaan Rintisan : Perusahaan Rintisan Kedai Kopi Indonesia," 2019. Seminal dan Konferensi Nasional IDEC, pp.2-3, Surakarta, Mei 2019.
Sihombing, Tionom R., "Rancang Bangun Mesin Pembuat Minuman Kopi Otomatis Dengan Tiga Varian Rasa Berbasis Arduino Dengan Kontrol Android," Universitas Sumatra Utara, Medan, 2020.
Dermawan, Dedek. dan Porman Pangaribuan. "Desain Sistem Mekatronika Pendistribusian Gelas Pada Smart Coffe Maker Menggunakan Metode Finite State Machine," 2021. e-Proceeding of Engineering, vol. 8, no. 2, p.949, April 2021.
Yunita, Fira. Porman Pangaribuan dan Willy Anugrah Cahyadi. "Smart Coffee Maker Berbasis Internet of Things," 2020. e-Proceeding of Engineering, vol. 7, no. 3, pp.8802-8809, Desember 2020.
Tullah, Rahmat. Rudi Setiyanto dan Maghfaluti Mohamad Rizki. "Alat Penyeduh Kopi Tubruk Otomatis Berbasis Arduino," 2021. Jurnal SISFOTEK GLOBAL, vol. 11, no. 1, Maret 2021.
Setiawan, Andi. dan Ade Irma Purnamasari. "Pengembangan Smart Home Dengan Microcontrollers ESP32 dan MC-38 Door Magnetic Switch Sensor Berbasis Internet of Things (IoT) Untuk Meningkatkan Deteksi Dini Keamanan Perumahan," 2019. Jurnal Resti (Rekayasa Sistem dan Teknologi Informasi), vol. 3, no. 3, pp.451-457, 2019.
H. Kusumah and R. A. Pradana, "Penerapan Trainer Interfacing Mikrokontroler dan Internet of Things Berbasis ESP32 Pada Mata Kuliah Interfacing," CERIA, vol. V, no. 2, pp. 120-134, Agustus 2019.
A. Maier, A. Sharp and Y. Vagapov, "Comparative Analysis and Practical Implementation of the ESP32 Microcontroller Module for the Internet of Things," 2017 Internet Technologies and Applications (ITA), pp. 143-148, 2017.
A. A. Nur Rohman, R. Hidayat and F. R. Ramadhan, "Pemrogaraman Mesin Smart Bartender Menggunakan Software Arduino IDE Berbasis Microcontroller ATmega2560," Prosiding Seminar Nasional Teknik Elektro, vol. VI, pp. 14-21, 2021.
S. K. D. B. a. K. I. R. S. Adarsh, "Performance Comparison of Infrared and Ultrasonic Sensors for Obstacles of Different Materials in Vehicle Robot Navigation Applications," IOP Publishing, Material Science and Engineering, vol. 149, 2016.
M. A. Yani and E. Ridawati, "Pengaruh Perbedaan Ukuran Gilingan Terhadap Seduhan Kopi Arabika Batumirah Dengan Teknik Vietnam Drip," Jurnal Pangan dan Agroindustri, vol. X, no. 2, pp. 93-101, April 2022.
K. Pradipta and K. Fibrianto, "Jurnal Review Perbedaan Air Seduh Terhadap Persepsi Multisensoris Kopi," Jurnal Pangan dan Agroindustri, vol. V, no. 1, pp. 85-91, Januari 2017
A. M. A. K. Gunawan, I. N. Khairunnisa and M. K. Fais, "Paradoks Konsumsi Kopi Terhadap Risiki Kejadian Stroke: Sebuah Kajian Sistematis," SCRIPTA SCORE Scientific Medical Journal, vol. III, no. 3, pp. 51-60, Agustus 2021.
R. A. M. Deval, R. Iskandar and H. Daniati, "Manual Brew House Blend Coklat Khas Indonesia," Jourism Scientific, vol. VI, no. 1, pp. 20-36, Desember 2020.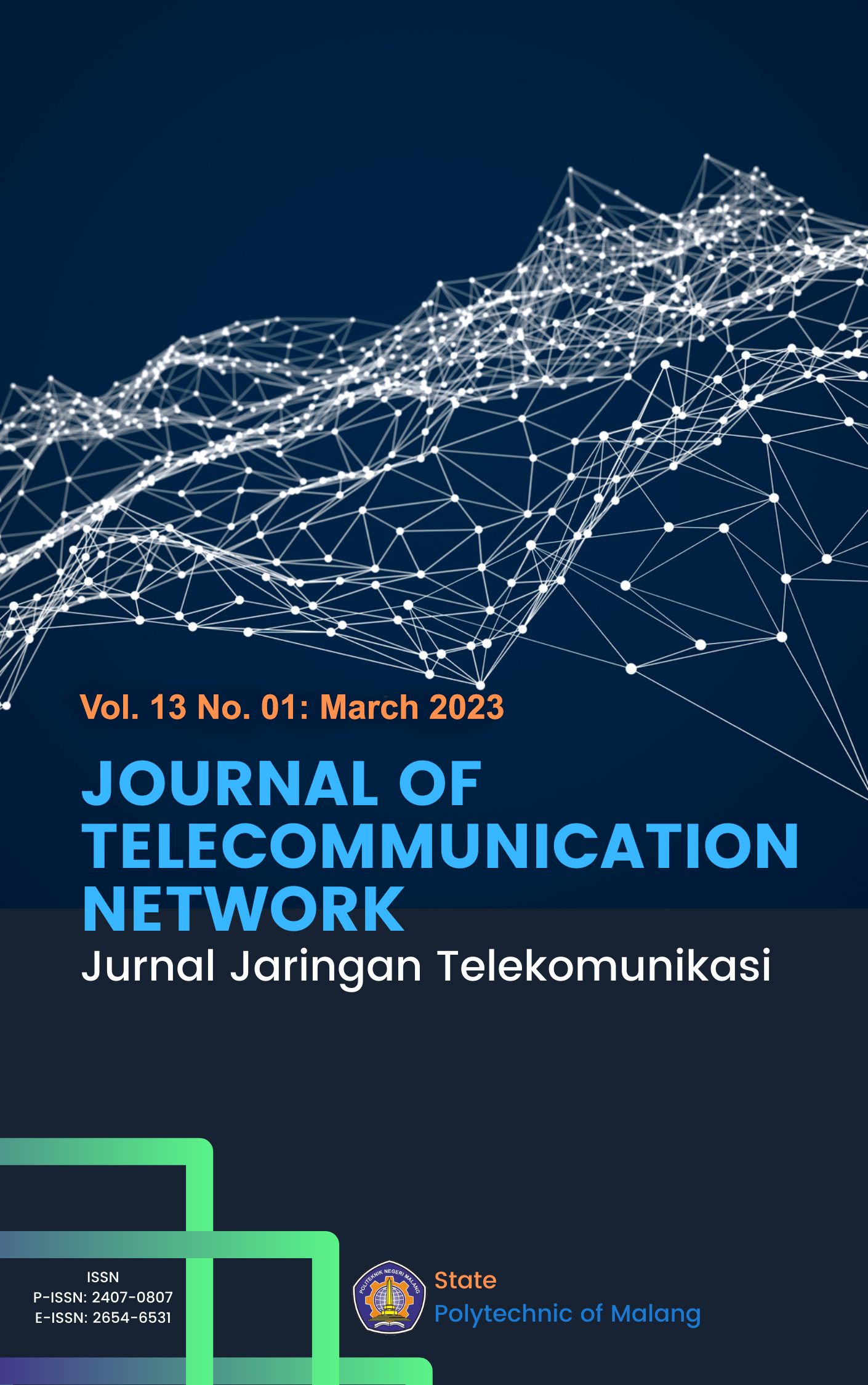 Downloads
How to Cite
[1]
N. D. Nugrahaini, M. Kusumawardani, and A. Rasyid, "Design System of Coffee Maker with Manual Brew Method and Coffee Sales Monitoring", Jartel, vol. 13, no. 1, pp. 43-50, Feb. 2023.
License
Copyright (c) 2023 Narulita Dwi Nugrahaini, Mila Kusumawardani, Abdul Rasyid
This work is licensed under a Creative Commons Attribution 4.0 International License.