Rancang Bangun Sistem Akses Rumah Indekos Menggunakan QR Code Berbasis Mikrokontroler Dengan Payment Reminder System Pada Aplikasi Android
Keywords:
System Access, QR Code, NodeMCU, Android
Abstract
The boarding house is a temporary residence and is used as a place to store valuables. One of the facilities that need to be improved is the security of the fence and door of the house, because houses are often targets for people who want to commit crimes, so a security system is needed. The majority of security systems on house door locks are currently manual security systems in the form of conventional padlocks.
This study aims to develop a system to provide a better level of security accuracy on room doors and boarding house fences, and a payment reminder system so that boarding house payments are more controlled. To open the fence and door of the boarding house occupants, scan the QR code with the android application so that they can access the fence and door of the room. Status has not paid the rent will be given a warning in the form of a pop-up in the android application.
The test results obtained are in the form of successful testing of the functionality of the miniature boarding house, testing the SmartKos application, firebase database, and the accuracy of data communication between firebase and NodeMCU in the form of delay with the worst value in the measurement. 3rd with a value of 3.89 s, the best throughput is in the 3rd measurement with a value of 43864 bps, packet loss in this study has an index of 4 because it has a packet loss value of 0%.
References
"indekos," KBBI Daring, 2016. https://kbbi.kemdikbud.go.id/entri/indekos (accessed Jul. 26, 2021).
P. Utomo, "Dinamika Pelajar Dan Mahasiswa Di Sekitar Kampus Yogyakarta ( Telaah Pengelolaan Rumah Kontrak Dan Rumah Sewa )," Univ. Negeri Yogyakarta, no. April, pp. 11–14, 2009.
A. R. Gifari Alim Prakasa, "Prototype Sistem Kunci Pintu Berbasis QR Code dan Arduino," 2017.
D. Nataliana, S. Anwari, dan M. S. Akbar, "Implementasi Prototype Sistem Home security dengan Pemanfaatan Kode Akses berbasis Arduino Mega," ELKOMIKA J. Tek. Energi Elektr. Tek. Telekomun. Tek. Elektron., vol. 5, no. 2, p. 119, 2018, doi: 10.26760/elkomika.v5i2.119.
A. Siswanto, A. Efendi, and A. Yulianti, "Alat Kontrol Akses Pintu Rumah Dengan Teknologi Sidik Jari Di Lingkungan Rumah Pintar Dengan Data Yang Di Enkripsi," J. Penelit. Pos dan Inform., vol. 8, no. 2, p. 97, 2018, doi: 10.17933/jppi.2018.080201.
N. Lestari, "Rancang Bangun Pintu Otomatis Menggunakan Arduino Uno Dan PIR (Passive Infra Red) Sensor Di SMP Negeri Simpang Semambang," J. Chem. Inf. Model., vol. 53, no. 9, pp. 1689–1699, 2017.
A. F. Silvia, E. Haritman, and Y. Muladi, "Rancang Bangun Akses Kontrol Pintu Gerbang Berbasis Arduino Dan Android," Electrans, vol. 13, no. 1, pp. 1–10, 2014.
E. Hamid, L. Chong, N. Bahaman, S. Anawar, Z. Ayob, and A. Abdul, "Implementation of Intelligent Automated Gate System with QR Code," Int. J. Adv. Comput. Sci. Appl., vol. 9, no. 10, pp. 359–363, 2018, doi: 10.14569/ijacsa.2018.091043.
Mikrokontroller, "Sistem kendali," Jte, vol. 8, no. 2, pp. 25–34, 2004.
E. W. Ula, "Rancang Bangun Aplikasi Sistem Keamanan Loker Dosen Menggunakan Kode QR," Politeknik Negeri Malang, 2019.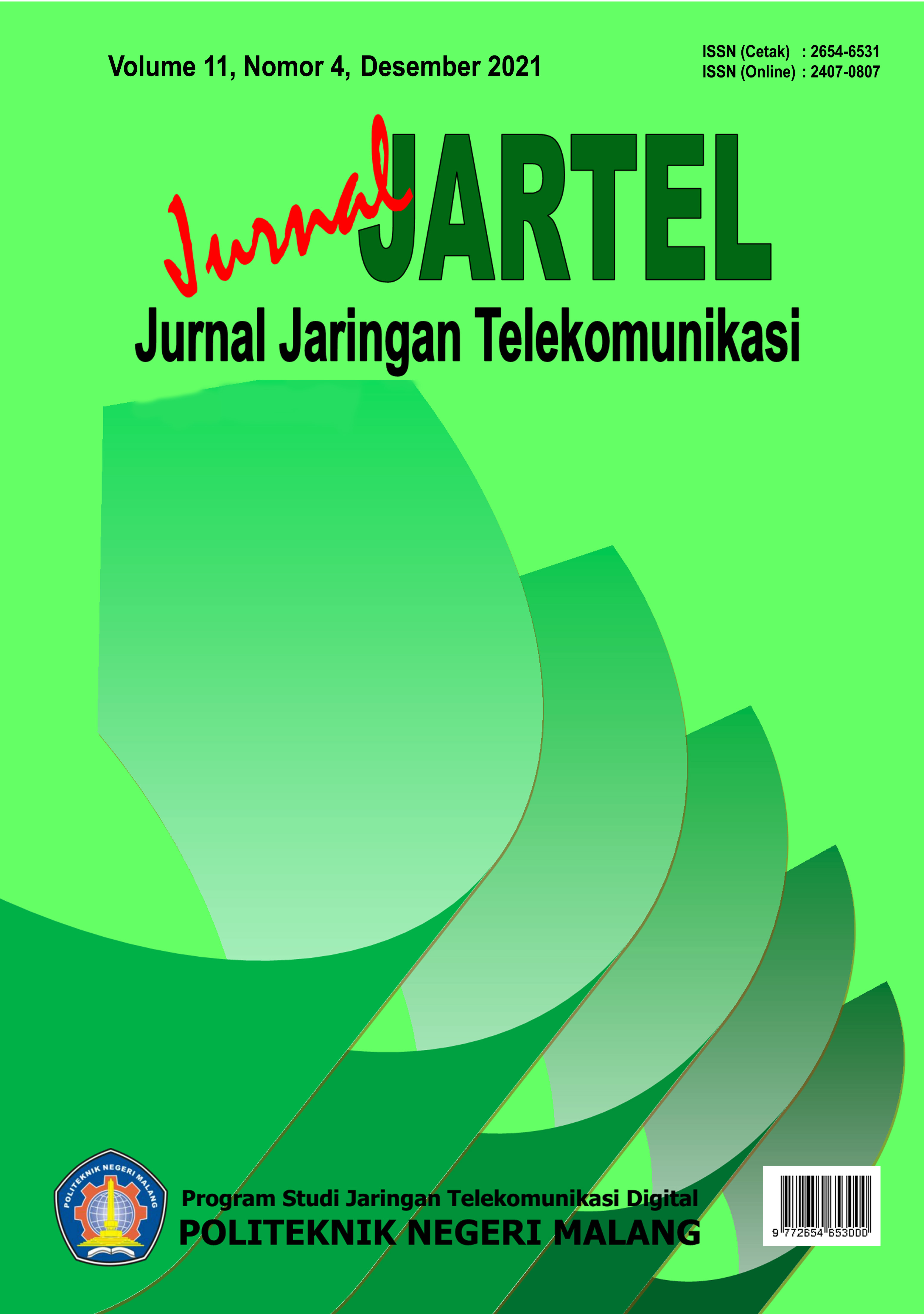 Downloads
How to Cite
[1]
A. N. . Kartina, M. . Kusumawardani, and R. Saptono, "Rancang Bangun Sistem Akses Rumah Indekos Menggunakan QR Code Berbasis Mikrokontroler Dengan Payment Reminder System Pada Aplikasi Android", Jartel, vol. 11, no. 4, pp. 175-181, Dec. 2021.
License
Copyright (c) 2021 Aisyah Nanda Kartina, Mila Kusumawardani, Rachmad Saptono
This work is licensed under a Creative Commons Attribution 4.0 International License.