Prototype Mini Crane Pemindah Barang Berbasis Sistem Otomasi
Keywords:
mini crane, PLC Mitshubishi, Pneumatic, Proximity, Automation Industry
Abstract
Crane is a tool used to make it easier to move and lift an item. This research aims to create a mini crane system for optimizing the movement of goods based on industrial automation that utilizes PLC (programmable logic controller) as the controller and Pneumatik s as the actuator. This system uses a Mitsubishi PLC as the main controller. PLC works based on the input obtained from the selector switch to select a manual or automatic work system. There is a push button as a start and stop button, a limit switch as a limiter for the movement of the X and Y axes of the Rodless Cylinder to move items, proximity sensors to detect the presence of items to be moved and those that have been moved. In the results of this study, the sensor used to detect the type of workpiece material uses an inductive proximity sensor. In one crane process takes a maximum of 15.37 seconds. The maximum weight that a vacuum can suck at a pressure of 3 bar is 650g, at a pressure of 4 bar it is 950g, and at a pressure of 6 bar it is 1059g.
References
Anhar Khalid, H. R. (2016). Rancang bangun simulasi sistem pneumatik untuk pemindah. Jurnal intekna, Volume 16, 1-6.
Syaprudin, D. (2018). Sortir Barang Berdasarkan Berat dan Tinggi Berbasis PLC dengan Monitoring. Prosiding Seminar Teknik Elektro Volume 3, 1-4.
Ei Ei Cho, Z. M. (2014). Perancangan dan Implementasi Penggunaan Sistem Otomasi Crane Industri. Jurnal Internasional Teknik Ilmiah dan Riset Teknologi, Vol.03, Edisi.06, 1-9.
Murie Dwiyaniti, C. H. (2018). Perancangan dan Implementasi PLC Hot Standby dan Scada Pada. Prosiding Seminar Nasional Teknik Elektro Volume 3, 1-7.
Ahyar M, Z. A. (n.d.). Rancang bangun media praktikum sistem pneumatik. Prosiding Seminar Nasional, 1-10.
Ari Setiawan, S. S. (2004). Perancangan lengan robot pneumatik pemindah plat. Labratorium Teknik Kontrol Otomatik, 1-6.
Samuel Yosia Dimpudus, D. E. (2015). Sistem Pengepakan Botol Minuman Kemasan Berbasis Programmable Logic Controller. E-Journal Teknik Elektro dan Komputer vol. 4 no. 7, 1-8.
Syufrijal, S. (2017). Aplikasi PLC Pada Crane Berbasis SCADA. AUTOCRACY: Jurnal Otomasi, Kendali, dan Aplikasi Industri, 4(02), 122-129.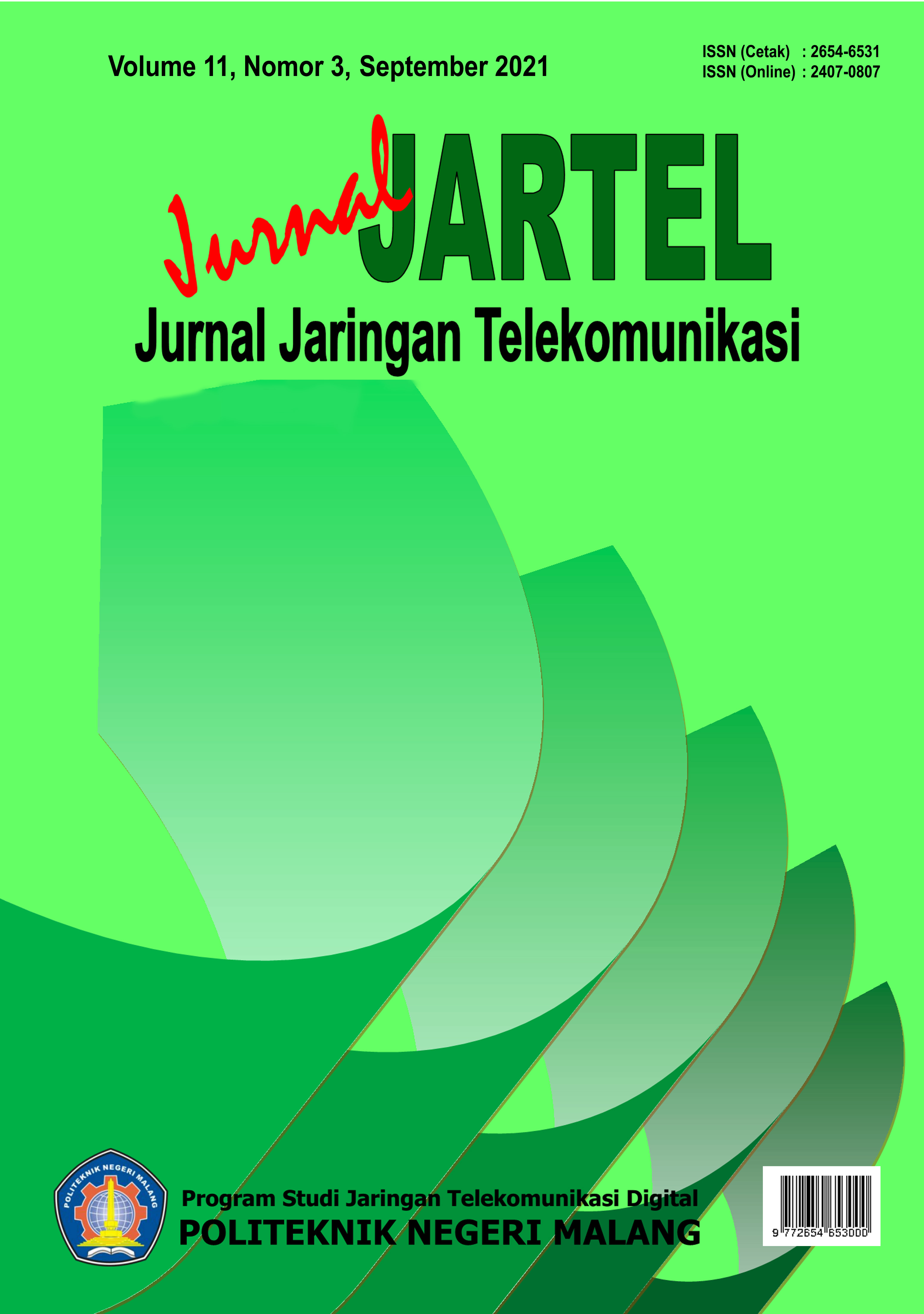 Downloads
How to Cite
[1]
A. Alamsyah, H. Purnata, and M. Yusuf, "Prototype Mini Crane Pemindah Barang Berbasis Sistem Otomasi", Jartel, vol. 11, no. 3, pp. 155-160, Sep. 2021.
License
Copyright (c) 2021 Aldi Alamsyah, Hendi Purnata, Muhammad Yusuf
This work is licensed under a Creative Commons Attribution 4.0 International License.