Rancang Bangun FM Transmitter Menggunakan Metode Spread Spectrum Signal Berbasis Raspberry Pi
Keywords:
FM Transmitter, Spread Spectrum, Single board computer SBC), Radio data system (RDS), FM Transmitter, Raspberry, Spread Spectrum, SBC, rds
Abstract
The need for a communication system that can solve interference problems, can guarantee the confidentiality of information sent and can operate at low S / N (Signal to Noise Ratio) levels or is resistant to large noise. One of the technology in communication systems is the spread spectrum system An important characteristic of spread-spectrum communication is that it can provide protection against interfering signals with limited radio communication power using RDS technology and SBC-based spread spectrum which is compatible with spread spectrum technology which requires little power for operation SBC (Raspberry pi) can be implemented into an FM transmitter using the Broadcom bcm 2837 SOC socket which will produce a base clock, then the output signal will be generated via the GPIO 7.
References
D. S., E. M. S. Ignatius Yoslan Kurniawan, "Perancangan Dan Implementasi Alat Pengirim Informasi Radio Menggunakan Mikrokontroler Dan Rds" Fakultas Ilmu Terapan, Universitas Telkom, 2018.
dini novarianti, "Design and Implementation of Chebyshev Band Pass Filter with M-Derived Section in Frequency Band 88 - 108 MHz", Jurnal Jartel, vol. 8, no. 1, pp. 7-11, Mar. 2019.
B. M. Dietmar Kopitz, "RDS: The Radio System," in RDS: The Radio System, Boston, Artech, 1999.
J. Kelly, "Introduction to FMStereo-RDS," US: Verigy, 2010.
S. W. Matt Richardson, Getting Started With Raspberry Pi, New York: O'Reilly Media, Inc., 2012.
R. H. Yoga Perdana, N. Hidayati, A. W. Yulianto, V. Al Hadid Firdaus, N. N. Sari and D. Suprianto, "Jig Detection Using Scanning Method Base On Internet Of Things For Smart Learning Factory," 2020 IEEE International IOT, Electronics and Mechatronics Conference (IEMTRONICS), 2020, pp. 1-5.
Upton, Programming the Raspberry Pi, US: Element14.com, 2012.
M. Mark, Advance Linux Programming, USA: New Riders Publishing, 2001.
Pangera, "Perbandingan FHSS dan DSSS" Jurnal STMIK AMIKOM Yogyakarta, 2012.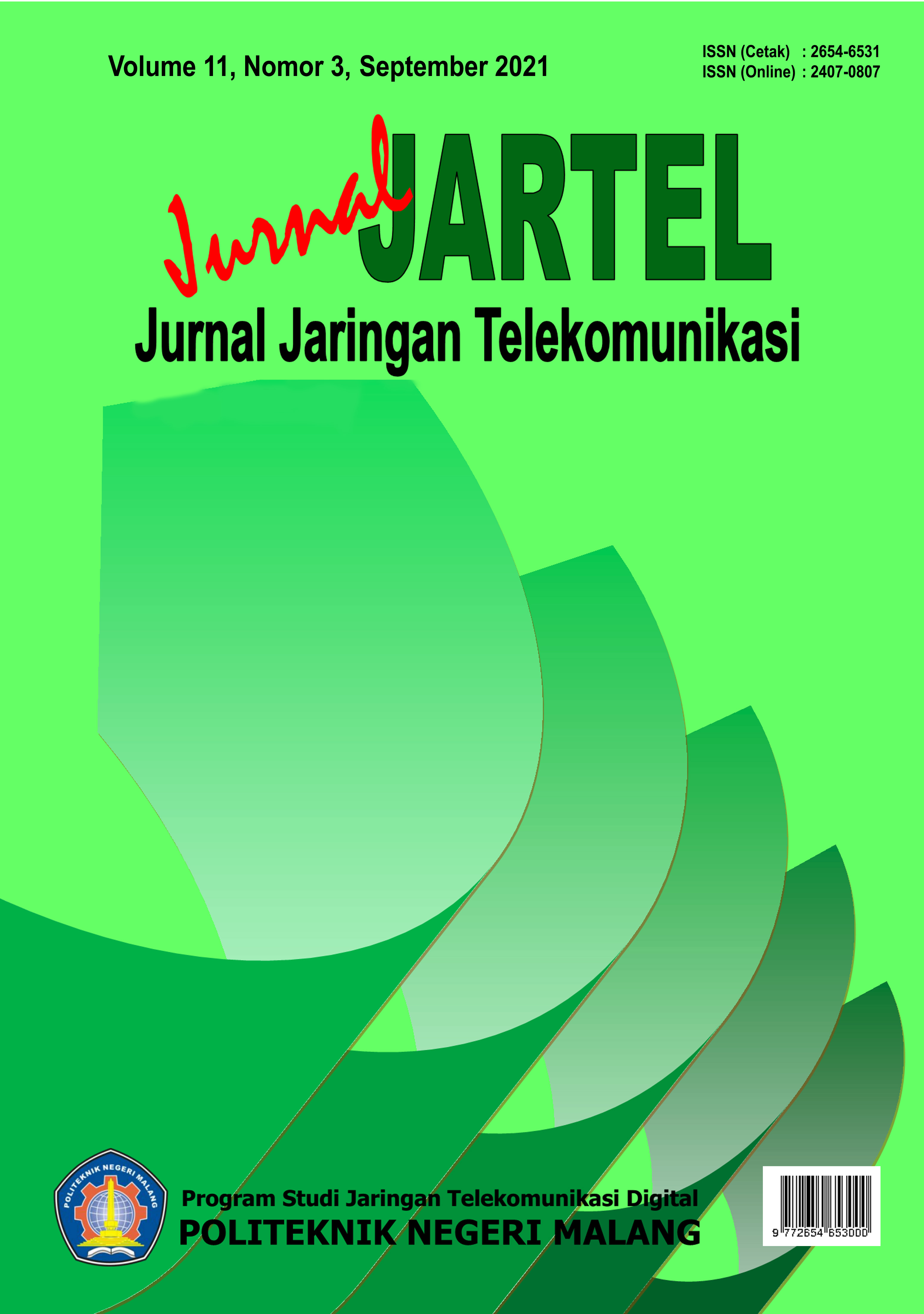 Downloads
How to Cite
[1]
A. Hanif, A. Hariyadi, and A. Aisah, "Rancang Bangun FM Transmitter Menggunakan Metode Spread Spectrum Signal Berbasis Raspberry Pi", Jartel, vol. 11, no. 3, pp. 141-144, Sep. 2021.
License
Copyright (c) 2021 Achmad Hanif, Aad Hariyadi, Aisah Aisah
This work is licensed under a Creative Commons Attribution 4.0 International License.