Analisis Kualitas Sinyal Menggunakan G-Nettrack Pro di Kota Malang
Keywords:
LTE, RSRP, RSRQ, SINR, Throughput, Drive test, G-Nettrack Pro.
Abstract
Currently, wireless telecommunication networks (wireless) have developed very rapidly. To meet the demands of today's mobile users for data rate transfer and data services. The application of LTE technology has been intensively carried out in several countries, including Indonesia. The problem that is often faced is the limited coverage area of ??the Base Transceiver Station (BTS) so that not all areas can be covered by the 4G network. Based on this background, this thesis will analyze the performance and signal quality of LTE networks in Malang City. This measurement is done using the G-Nettrack Pro application and the parameters to be measured in this study are RSRQ, RSRP, SINR and Throughput. The location of eNodeB used for research is in 2 Districts in Malang City. From the measurement results of the drive test, it was found that the area of ??Sawojajar and Malang City had a max RSRP value of -64 dBm, a min RSRP of -105 dBm, an average RSRP of -83.2 dBm in the Very good category. RSRQ max -6 dB, min RSRQ -11 dB, and average RSRQ -10.05 dB in the Normal category. SINR max 25 dB, SINR min -3 dB, and SINR average 9.65 dB in the Good category. Uplink max 14546 kbps, Uplink min 0, and an average Uplink 19.96 kbps in the Very bad category. Downlink max 15564 kbps, Downlink min 0, and downlink average 28.6 kbps in the Very bad category.
References
Menpo Vascodegama Panjaitan, Analisis Quality of Service ( Qos ) Jaringan 4G Dengan Metode Drive Test Pada Kondisi Outdoor Menggunakan Aplikasi G-Nettrack Pro, p. 8, juni 2018.
Eko Bastianto, "Perencanaan Jaringan Indoor Long Term Evolution ( LTE ) Menggunakan Physical Cell Identity ( PCI ) Di Lippo Plaza Mampang", 2019
BURTON SINAGA, "Perencanaan Jaringan Indoor Untuk Teknologi LTE Di Gedung Fakultas Ilmu Terapan Universitas Telkom", 2016
Indah Ayu Lestari, "ANALISIS MANAJEMEN INTERFERENSI JARINGAN UPLINK 4G-LTE DENGAN METODE INNERLOOP POWER CONTROL DI PT TELKOMSEL", 2017
Dewi Wirastuti, pande ketut sudiarta Pramarta Warsika, "ANALISA THROUGHPUT JARINGAN 4G LTE DAN HASIL DRIVE TEST PADA CLUSTER RENON," jurnal spektrum, vol. 6, p. 7, Maret 2019.
Nidya Suroyya, "Analisa Performansi Jaringa 4G Di Wilayah Malang", Jurnal JARTEL ISSN: 2407-0807 Vol: 9, Nomor: 2, Juni 2019
Rendi, Yusnita Rahayu Efriyendro, Analisa Perbandingan Kuat Sinyal 4G LTE Antara Operator Telkomsel dan XL AXIATA Berdasarkan Paramater Drive Test Menggunakan Software G-NetTrack Pro Di Area Jalan Protokol panam, vol. 4, no. 2, p. 9, 2017.
I Gede Made Yogi Priyandana Adi Saputra, Analisis Hasil Drive Test Menggunakan Software G-Net Dan Nemo Di Jaringan Lte Area Denpasar, vol. 5, no. 2, p. 8, desember 2018.
Eva Yovita Dwi Utami Debora Lidya Tamtama, "analisis kinerja coverage dan kualitas sinyal 4G LTE pada operator selular di kota Purbalingga," media elektrika, vol. 10, p. 9, desember 2017.
Ari Sugiharto, "Analisa Performa Jaringan 4G LTE Berbagai Provider Seluler di Area Kota Yogyakarta", Prosiding Seminar Nasional Unimus (Volume 1, 2018)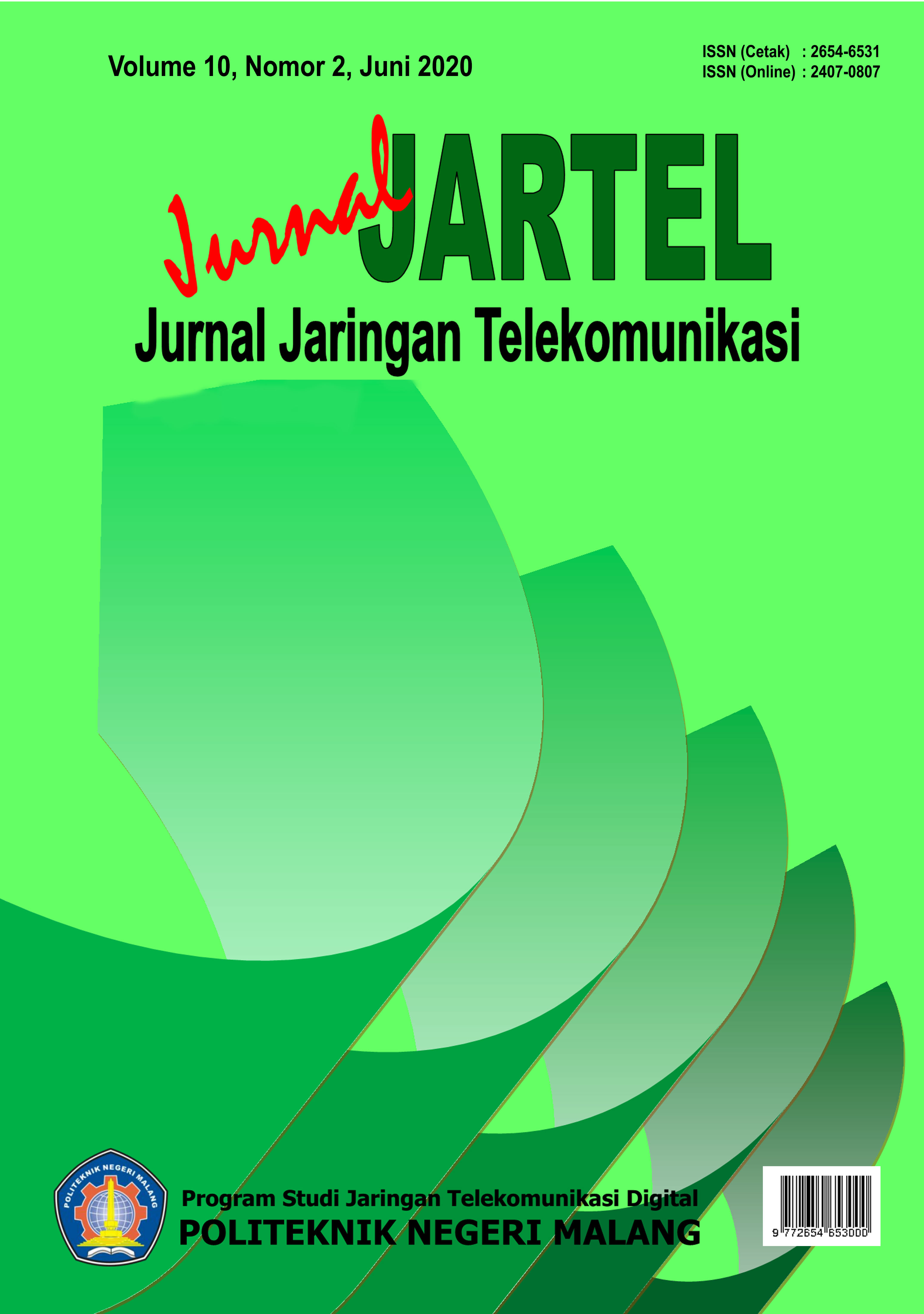 Downloads
How to Cite
[1]
D. S. Anggraeni, A. Aisah, and A. Rasyid, "Analisis Kualitas Sinyal Menggunakan G-Nettrack Pro di Kota Malang", Jartel, vol. 10, no. 2, pp. 124-128, May 2020.
License
Copyright (c) 2020 Dania Sartika Anggraeni, aisah, abdul rasyid
This work is licensed under a Creative Commons Attribution 4.0 International License.