Rancang Bangun Pendeteksi Kualitas Minyak Goreng Kelapa Sawit dengan Menggunakan Metode Sensor Ultrasonik dan Sensor Kapasitif Berbasis Smartphone
Keywords:
Palm oil, pH, Ultrasonic, Capacitive, Delay
Abstract
In this study, the application can be used so that consumers can find out the fat content and acidity in Barco oil, fish dorang, and bulk oil which has an android monitoring system in real-time. This research uses Arduino UNO and Node MCU as the microcontroller. Arduino Uno will later be assembled together with water pH modules, ultrasonic HC-SR04, and capacitive soil. The pH module functions to measure the water and fat content in palm oil. An ultrasonic module that functions to measure the volume of the oil measurement container. The capacitive module is used to determine the density of quality in saturated oil. The test results can be concluded that the pH sensor can detect levels of fat and acidity in palm oil has a value of about 5 to 11. Ultrasonic sensors on the volume of oil samples of Barco and fish dorang have a significantly increased grapH, while the bulk oil sample has a very high grapH which causes acidity oil. This study has the highest delay of 1.303525ms and the lowest delay of 0.628276ms. With an average value of delay obtained of 1.189657 ms.
References
H. A. Hasibuan, "Kajian Mutu Dan Karakteristik Minyak Sawit Indonesia Serta Produk Fraksinasinya," J. Stand., vol. 14, no. 1, p. 13, 2012.
I. F. Ulfindrayani and Q. A'yuni, "Penentuan Kadar Asam Lemak Bebas Dan Kadar Air Pada Minyak Goreng Yang Digunakan Oleh Pedagang Gorengan Di Jalan Manyar Sabrangan, Mulyorejo, Surabaya," J. PHarm. Sci., vol. 3, no. 2, pp. 17–22, 2018.
S. Jenderal, "The war dan practical dietetics," J. Am. Med. Assoc., vol. LXV, no. 1, pp. 31–33, 2007.
B. A. B. Ii dan T. Pustaka, "Crude Palm Oil (CPO) atau minyak kelapa sawit," pp. 3–19, 2004.
A. L. Belakang, "minyak kelapa murni," pp. 1–55, 2004.
M. Wuri Marsigit, "Analisis Penurunan Kualitas Minyak Goreng Curah Selama Penggorengan Kerupuk Jalin," J. Chem. Inf. Model., vol. 53, no. 9, pp. 1689–1699, 2013.
S. Samsugi, A. Ardiansyah, dan D. Kastutara, "Arduino dan Modul Wifi ESP8266 sebagai Media Kendali Jarak Jauh dengan antarmuka Berbasis Android," J. Teknoinfo, vol. 12, no. 1, p. 23, 2018.
Z. S. Putra, M. Rivai, dan S. Suwito, "Sistem sensor kualitas minyak berdasarkan pada pengukuran kapasitansi dan panjang berkas pembiasan cahaya," J. Tek. ITS, vol. 2, no. 1, pp. B67–B72, 2013.
E. Ihsanto dan S. Hidayat, "Rancang Bangun Sistem Pengukuran Ph Meter Dengan Menggunakan Mikrokontroller Arduino Uno," J. Teknol. Elektro, vol. 5, no. 3, 2014.
M. D. Supardan, "Penggunaan Ultrasonik untuk Transesterifikasi Minyak Goreng Bekas," J. Rekayasa Kim. Lingkung., vol. 8, no. 1, pp. 11–16, 2011.
G. R. Paraya dan R. Tanone, "Penerapan Firebase Realtime Database Pada Prototype Aplikasi Pemesanan Makanan Berbasis Android," J. Tek. Inform. dan Sist. Inf., vol. 4, no. 3, pp. 397–406, 2018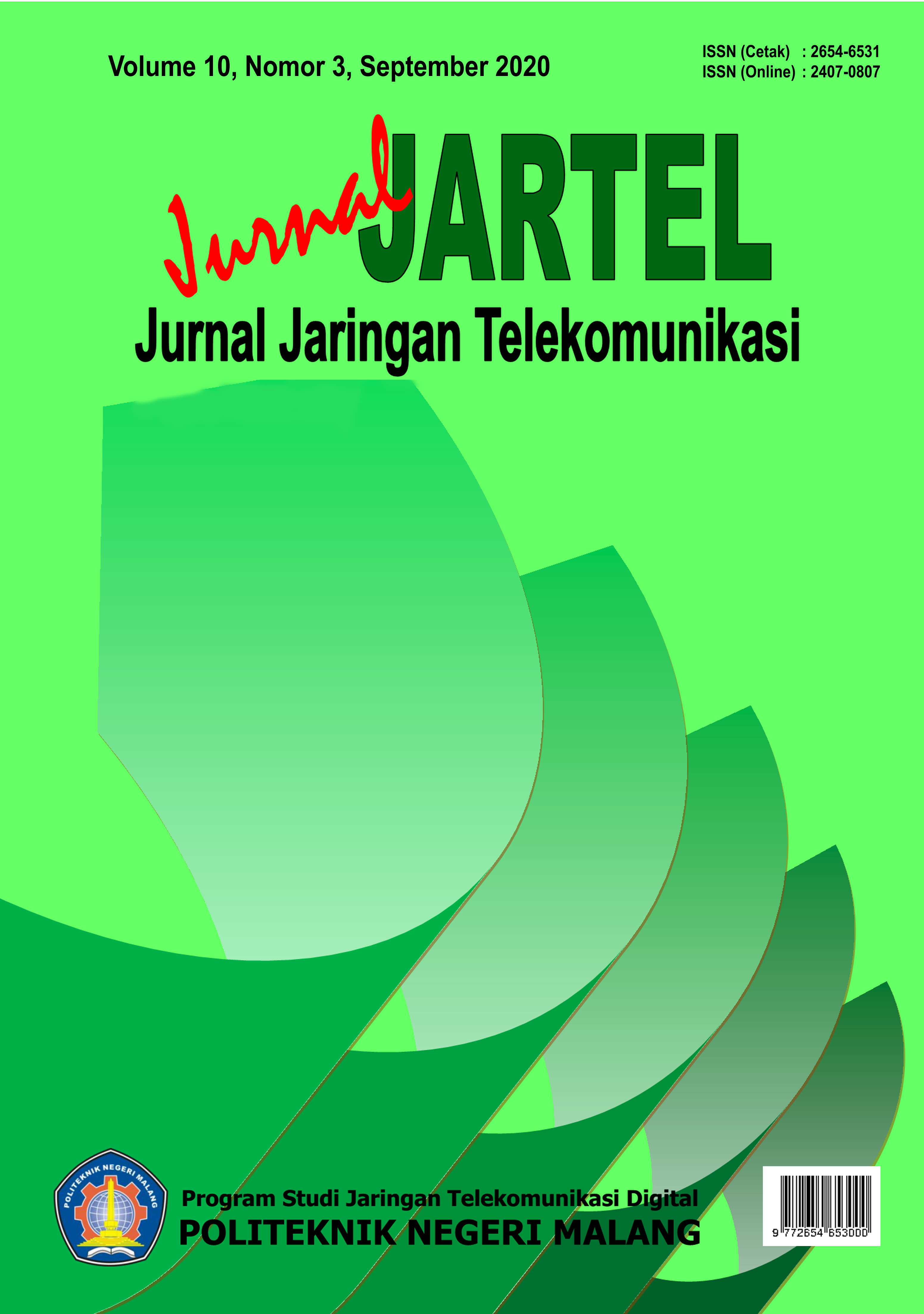 Downloads
How to Cite
[1]
C. Satria, M. N. . Zakaria, and F. A. Soelistianto, "Rancang Bangun Pendeteksi Kualitas Minyak Goreng Kelapa Sawit dengan Menggunakan Metode Sensor Ultrasonik dan Sensor Kapasitif Berbasis Smartphone", Journal of Telecommunication Network, vol. 10, no. 3, pp. 140-143, Sep. 2020.
License
Copyright (c) 2020 Cighra Satria, M. Nanak Zakaria, Farida Arinie Soelistianto
This work is licensed under a Creative Commons Attribution 4.0 International License.