Design of Smart Gloves for Indonesian Sign Language Translator (BISINDO) based on IoT
Keywords:
BISINDO, Flex sensor, MPU-6050 Sensor, Esp32, Mapping Method
Abstract
To make the general public can understand sign language, people who translate sign language are needed. Research with titled "Design of Smart Gloves for Indonesian Sign Language Translator (BISINDO) based on IoT" purpose to make easier for deaf people communicate daily with general public. Using Esp-32 microcontroller, flex sensor, and gyroscope sensor, to detect hand movements form sign language symbols. The results of translating symbols in the words will be display on smartphone application. The results of this study are in the form of smart gloves that can translate Indonesian Sign Language which is abbreviated as BISINDO. From the data of both right and left hand gloves, 26 letters and 5 different words can be combined. The results of mapping on right glove in letters A, B, L, M, W, Y, Z, have almost same flex sensor angle value, so that characters can appear, the mapping is carried out on MPU-6050 sensor. Tests were carried out 739 times on letter sign symbols and 180 times on word sign language symbols, the percentage of successful experiments on letters was 95% and the percentage of successful experiments on words was 73%.
References
Y.U.Solikhatun, "Penyesuaian Sosial Pada Penyandang Tunarungu Di Slb Negeri Semarang," Educ. Psychol. J., vol. 2, no. 1, pp. 65–72, 2013.
M. Pradikja Hendra, H. Tolle, and K. Candra Brata, "Pengembangan Aplikasi Pembelajaran Bahasa Isyarat Berbasis Android Tablet," J. Pengemb. Teknol. Inf. dan Ilmu Komput. Univ. Brawijaya, vol. 2, no. 8, pp. 2548–964, 2018.
A. B. Prasetijo, M. Y. Dias, and D. Eridani, "Rancang Bangun Alat Penerjemah ASL (American Sign Language) dengan Sensor Flex Berbasis Mikrokontroler ATmega2560," J. Rekayasa Elektr., vol. 14, no. 1, pp. 75–82, 2018.
D. Kusuma Wardana, I. K. Eddy Purnama, and A. Zaini, "Pengembangan perangkat Finger Motion Berbasis Flex Sensor," Proceeding Semin. Penelit. Jur. Tek. Eletro Fti-Its, pp. 1–6, 2013.
A. W. Setiawan, L. N. Rizalputri, and A. H. Thias, "Pengembangan Alat Bantu Komunikasi Penderita Pascastroke Development of Communication Assistive Device Using Flex Sensor and Accelerometer for Post-Stroke Patient," vol. 6, no. 2, pp. 129–134, 2019.
R. D. Ramadhan, "Rancang bangun robot fighter menggunakan flex sensor dengan komunikasi bluetooth," Ranc. Bangun Robot Fight. Menggunakan Flex Sens. Dengan Komun. Bluetooth, pp. 1–12.
B. Ave, D. Number, and R. Date, "MPU-6000 and MPU-6050 Register Map and Descriptions," vol. 1, no. 408, pp. 1–46, 2013.
D. M. Putra, M. Junus, P. Studi, J. Telekomunikasi, T. Elektro, and P. N. Malang, "Rancang bangun pendeteksi penghalang dan gps tracker untuk penyandang tunanetra menggunakan sarung tangan berbasis microcontroller 1,2,3)."
R. H. Yoga Perdana, N. Hidayati, A. W. Yulianto, V. Al Hadid Firdaus, N. N. Sari and D. Suprianto, "Jig Detection Using Scanning Method Base On Internet Of Things For Smart Learning Factory," 2020 IEEE International IOT, Electronics and Mechatronics Conference (IEMTRONICS), 2020, pp. 1-5.
E. P. Cundomanik, L. P. Dewi, and J. Andjarwirawan, "Aplikasi Survei Berbasis Android," no. 031, 2007.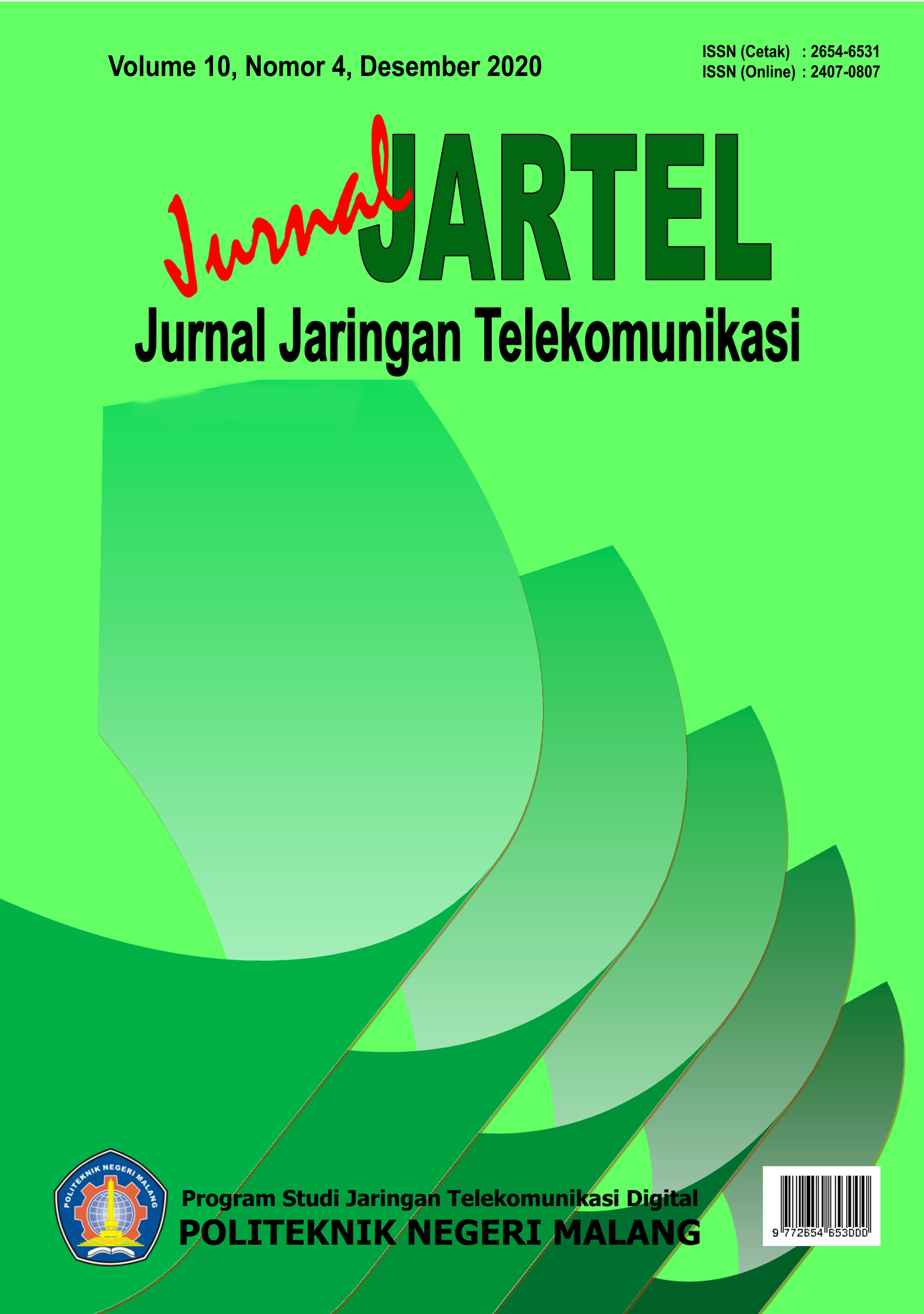 Downloads
How to Cite
[1]
wildana ahmad priadiyatna, H. Hudiono, and A. Rasyid, "Design of Smart Gloves for Indonesian Sign Language Translator (BISINDO) based on IoT", Journal of Telecommunication Network, vol. 10, no. 4, pp. 213-219, Dec. 2020.
License
Copyright (c) 2020 wildana ahmad priadiyatna, Hudiono Hudino, Abdul Rasyid
This work is licensed under a Creative Commons Attribution 4.0 International License.